Friday was the official ending of the Amun week. In the morning we had a teaching about the good of education, with Elias and Andrew. Then the groups went to practice a drama about one of the lessons they have had. And after one hour they presented the drama's in the big group. It was fun to see the creativity of the different age groups about HIV/AIDS, honesty and family life. Of course we made our group picture and we had a nice meal with a soda. We also had the official ending in a big circle and giving our struggles to God, in believe that He will help us with the,m, because: everything is possible when I believe!!!!
Saturday morning it was cleaning and everybody packing their belongings.To make sure that everybody packs and that we not find later all kind of clothes, slippers etc.
We also were able to give all the children a Christmas gift home for their family. And Elias had organized this, early in the morning. The children were very very excited and happy and it helps them to go home with joy!!
It is a packet with practical things like: cooking oil,. posho, beans, rice, sugar, tea, biscuits, school books and pens, sweet and biscuits and a mosquito net.
After that they were organized into group for going into the different directions. some went on Bodaboda's home in Soroti, others were brought to the different taxi's in town, going to the different villages. We paid the fare to the drivers and made sure they were all on the right vehicle, and that was quite a job.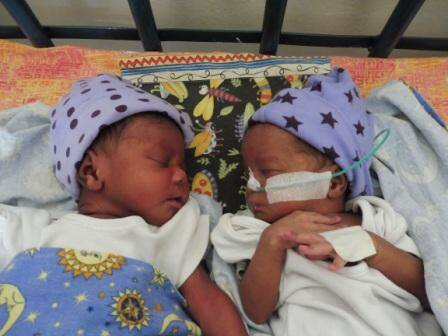 This morning early, (Sunday) a little baby passed away in Amecet. It is Faustina, part of twins. She came to Amecet 12 days ago. She struggled in the beginning of weakness, she couldn't suck the bottle, that is why we gave her a NG tube. She weight only 1.6 kg. At first we thought that she would make it, but she started to vomit, and later got problems with breathing. This morning at 7.20 am. she went to be with Jesus.
The moment she died, her twin sister was just getting her bath, and she started to cry very loud, out of nowhere. We think she felt the dying moment of her sister. Mary, later brought her to her sister, telling her that she has gone, and let her "say" to goodbye to her twin sister.
We got a small coffin and we are going to bring the little girl back to her village today.
Life goes on, after the joy of this great Amun week, is there the grieve over a little baby..... Christmas is around the corner......