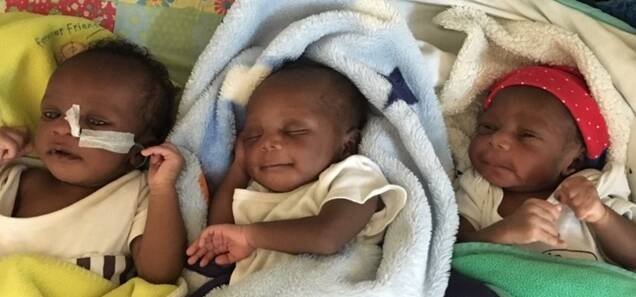 It was a bit quiet in Amecet, a number of children went home and one went to his new foster family. Three new baby's were brought, they all lost their mum after the delivery!! Mostly it is overbleeding or the placenta doesn't want to come out. Still many of the children are born at home, in the village. When I ask them why they didn't go to the healthcentre, they answered that the baby came at night.... On the picture at the left is Michael, he is the oldest, he was born on 15/6/2019 and he was brought to Amecet that same day, in the middle, the little lady Veronika, born on 21/6/2019, she was brought 3 days later and at the right little Innocent, he was born on 3 days ago and 5 hours later, we received him in Amecet. At the moment Michael is not drinking so well, so the doctor suggested that we give him a NG tube for now, until he starts drinking better
Then the three brothers: the older one's are twins:Silver and David (6 years old) and the youngest is Kedi (4 years old):
On Friday, the three brothers were brought to Amecet by their grandmother and a communityworker. It is a very sad story, the three brothers were abandoned by both parents, a year ago, the grandmother had tried to find them, but without result. All three boys were even on the ARV's, because their mother is HIV+. We tested them, but the boys are all HIV-!! The grandmother is struggling to feed them, the clan has also abandoned her and her grandchildren.
The children are neglected and they are infested with jiggers. It is a kind of flea that comes in your skin and grows there and gives infections. It is often where there are pigs around and the hygiene is not good. Those three poor boys were infested!!!! Their hands and their feet, they could hardly walk. Also their hands were full of them...
Emmanuel and Simon spend hours with them, trying to get the jiggers out, they had so soak in water with medicines and then they tried to get more out. The children were so brave, they didn't cry, and it really hurts...
When they were finished, they all got a bottle with soda and they were thankful, they knew that we wanted to help them. It is so sad whenb you see them walk now, at the side of their feet, but there is no way that they would have no pain, it is just too much....